Updated on April 19, 2010
I Blew It [Completed and Updated]

Fraxinus, a member of Free Republic and a very dedicated supporter of us soldiers. When he first arrived, he grabbed his flag, his poster, and his corner and went nonstop all night. He inspired me.
I went to Walter Reed tonight to watch the protests that happen every Friday night. I was able to meet man people that I've known for quite some time and some I never knew existed. I interviewed the opposition and the supporters. I actually interviewed the opposition first because I really wanted to know what was in their heads.
I was dressed in blue jeans, a t-shirt, an H&K ballcap, and my one-of-a-kind Army jacket that I had custom made when I returned from Iraq. There was no doubt that I was a soldier and I told everyone that I talked to so there was no confusion. I did not ask questions as a Republican nor a Democrat. I asked questions as a soldier. For the most part, I was able to maintain my composure speaking with the Pinkos. That didn't last.

Pink Hat after we spoke.
I suck with names. Let's just face it, I do. I don't know what I need to do to make that better, but I really mean no disrespect…yet. I first interviewed "Pink Hat". I went over to the anti-war crowd and asked who the spokeperson was for the group. At the time there were about seven people there. They held their signs that said things like "Support Our Troops – Bring Them Home Now" and "No To War". Pink Hat claimed the title and spoke with her. We calmly discussed issues and she constantly told me that her decisions were based on being a mother. She has two girls, 19 and 16. I asked what she would do if her daughter told her she wanted to join the military. "I'd obviously try to talk her out of it," she initially said. However, she said she'd support them if they "could explain why" they wanted to join.
The overall theme of the conversation was that fact that war isn't necessary. Fighting isn't necessary. They think that every problem can be solved with peace. It's a great idea and I wish it could actually work. But, then I asked the tough question: What about the jihad? I did not see ONE sign that said "No To Jihad", "Stop The Jihad", "Bring the Suicide Bombers Home". Guess what the answer was to that question…."I'll bring it up to the committee." I can't make that up. The idea of calling for the jihadists, the terrorists, to stop fighting us needs to be voted on!! This is the agenda of Code Pink apparently.
I talked to a guy named Perry, dressed in a purple hat thing and vest. He was holding a sign that said "No Cuts In PTSD Funding". I agreed with him. I agreed that we need to take care of our soldiers. Like all good war protesters, Perry was stuck on the WMD argument. I asked him if he had ever read about the fighter jets we uncovered in Iraq. Nope. I didn't think so. The media seems to neglect that nugget of vital information. We discussed how difficult it must be to buy a squadron of jets and that the ONLY reason we found them was a tip from an Iraqi. He actually concurred with me at that point that if jets could be hidden, it wouldn't be very difficult to hide a warhead or missile…WMD. Yes, there's no evidence that Saddam possessed the weapons (to a degree), but there's no evidence he didn't either. So what was he doing with Code Pink when he seemed to genuinely care about us? "No has never been a war that could have been prevented," he said.
I absolutely agreed. I told them that every COULD indeed be prevented…until we are attacked. The people that could have prevented war CHOSE not to. Al Qaeda attacked us. They could have prevented this entire thing. Saddam paid to have Bush 41 assassinated. He could have prevented war. He killed innumerous civilians in his own country. People we're still finding the bones of to this day. He invaded Kuwait, a defenseless country. He chose to kick out the weapon's inspectors and chose a non-peaceful solution. He subsidized the suicide bombing trade in Palestine and Israel, resulting in dead Americans. Yes, war CAN be prevented. But when all options are exhausted, we defend ourselves and those who can't defend themselves.
I went to the corner where the soldier supporters were. Now I understand that some think you can support the troops and not the war, but for the purposes of this post, there are protesters and soldier supporters. Why do I say that? I didn't see ONE American flag on the protester side. On the supporter side I couldn't count all the flags I saw waving.
At one point towards the end of the night, I started yelling across the road. I was upset because the Pinkos had called the cops to have them check the permits of the supporters. I went down to there and asked them if they supporters the troops. Someone yelled "yes" from the other side. I then told them I was a troop and I'm asking them to leave. There were a few chuckles, but no one left. I started asking them why they weren't protesting the Jihad. Where were their signs? Why was it okay to kill Americans, but when we retaliate they come out in force against war? Then, I saw something that made my blood boil: an imitation American flag. The stripes were lined with red missiles or bombs, the stars were zeroes and ones, and there was a huge blue dollar sign superimposed into the canton of the flag. Since the cops were checking their permits, I decided not to cross without using a crosswalk and made my way back over to the protesters.
When I got back over to them, they were huddled in a circle discussing the fact that they had to leave because no one had the permit to assemble there. I took a few pictures. "Princess", the kid with the flag, saw that I was taking pictures and placed his huge sign between my camera and the protesters. The sign read "Let Them Heal, No Redeployment". I couldn't help but laugh. For those that don't understand military jargon, a deployment is when we leave home for a mission (like to Iraq). When we come home, it's called a redeployment. If we go back to Iraq again, it's still just a deployment, not a redeployment. I thanked Princess for supporting the fact that the soldiers should stay over there and keep the fight going so that Al Qaeda isn't here interferring with those soldiers trying to heal. He tried to argue his uneducated point that he meant we shouldn't go back to Iraq. I told him his sign didn't say that.


Princess is a study in irony. You can almost make out the "flag" in his back pocket.

The protesters disbanded and started packing up their signs. Perry came over and tried to refocus my attention away from the young peace warrior. I told him I wanted to talk to Princess now about his flag, which another protester was revelling in and taking pictures of. He had a t-shirt with the same flag image on the front. Because I was so enraged, I can't remember what the shirt said under the flag. I asked him why he was disrespecting our flag. He said he wasn't. He tried to make me feel stupid stupid by saying that the flag wasn't a symbol of this country, the eagle was. I wasn't so much thrown back by that fact, but by the fact that he even knew that. At least he finished 4th grade.
We argued over the "flag" for quite some time. I raised my voice and got very animated with my arms. I know this because when I got back to where the supporters were, they asked what I was flailing my arms about. Most of the exchange is a blur. He tried to tell me that his flag design wasn't necessarily based on the American flag, but the french flag, which is also red, white and blue. Strike one: don't compare the American flag to the French flag. He, like Pink Hat before him, tried to tell me that the whole reason we went into Afghanistan was to find and kill Osama. Strike two: if you're going to bring up history, you should study it first. I told him if he was so preoccupied with us finding Osama, he should march down to the local recruiter's office and help us find him. He said no way. So, I reminded him that if a high school teenager can steal his parent's credit card, purchase a ticket and fly to Iraq, surely he could find himself a posse that would travel with him to Afghanistan to find the person he was so obviously preoccupied with. After all, Afghanistan is now a free country because of us. No bite.
I think I've said enough about this. As calm and collected as I usually am, even I couldn't keep myself restrained. I'm not a physical person, so there was never any worry about that. Many times, the other protesters tried to get him to stop talking to me, but he was sucked in. His communistic ways prevented him from leaving…a sign of defeat. One quick note that I won't go into because I got worked up about this too: I got into an argument with a guy I called Baldilocks because he said we don't need a military at all. Yup, they support our troops all right.
I want to end with a picture and an observation. Over in Protester Land, I found a single flag. The flag bearer appeared to me to be a vet. He just looked like one. He didn't hold a sign, he didn't shout any slogans. He just waved his flag. But that was the only one I recall seeing.

However, I couldn't find one person on the supporter side that DIDN'T carry an American flag. That tells me something.

Here I am speaking with Perry (thanks to Gunn Nutt for the photo)

Here I am with some of the good ones (more props to Gunn Nutt)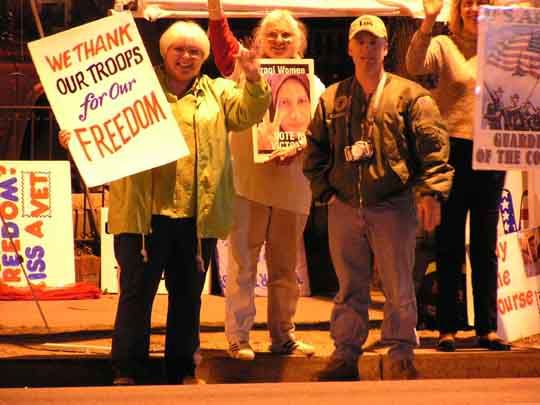 "Discussing" things with Pink Hat (yet more credit to Gunn Nutt)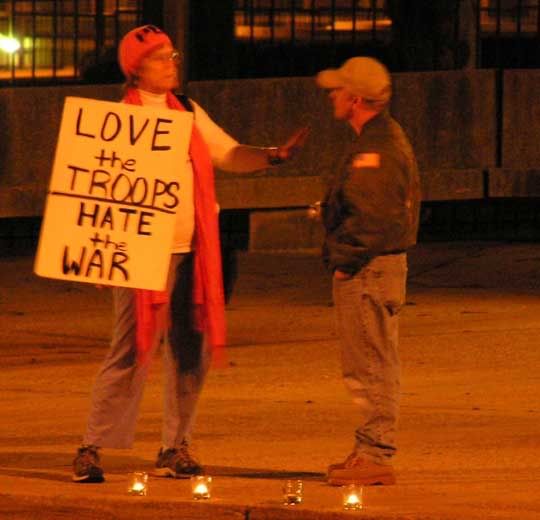 Read Gunn Nutt's account of the evening HERE. She also talks about Joshua Sparling, whom I had the privilege to meet. I've listened to two interviews he had with Sean Hannity and Oliver Stone (i'm an AM junkie). Josh recently found out that he'd have to have his leg amputated.
As an add-on, I wanted to mention the wonderful people that go out there every Friday. I just realized I didn't mention any of them. I really appreciate what they do. It was good to see all the flags and people supporting the soldiers. The cheers when the bus came back about drove me to tears. As I looked around at the supporters, the joy in their faces was genuine. These people really care. I'm proud to me a part of Free Republic.